I'm Princess Diane Von Brainisfried and it's a joy to welcome you into my kingdom where positivity rules and kindness reigns! Today I'm excited to introduce to you a new series that I will periodically post on my blog called #Enchanting Discoveries – People, Places, Things.  These posts will feature fascinating people, interesting places, and wonderful things that I discover down my journey on the path of life…and off the beaten path! I couldn't be happier to kick off this series by making your acquaintance with the truly enchanting artist Lisa Finch.  As a matter of fact, I was inspired to use the word "enchanting" for my new series because I felt like I stepped into an enchanted world when I serendipitously discovered her artwork on Etsy. I'm happy to share the following interview in which I got to know Lisa a little better and to give you a peek into her magical world. Read on to discover for yourself the enchanted world I fell in love with through artist Lisa Finch. ….CLICK on the TITLE to continue….
Free Report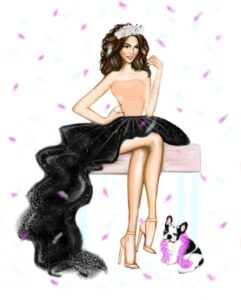 SUBSCRIBE and get
7 Insanely Simple Happiness Strategies Every Princess Must Have!

PLUS princess-worthy updates for a royally happy life!
An Ebullient Guide
Brainisfried's bubbling with practical and fresh ideas on the topic of how to get "royally happy and radically fulfilled." Step-by-step she guides you on a journey inside your heart and mind to help you find what makes your heart sing.
Disclaimer: Princess Diane Von Brainsfried® is a division of HarMaxiProductions, LLC. By using or viewing this website and these services of HarMaxiProductions, LLC  (hereinafter generally referred to as "Princess Diane Von Brainisfried", "my", "our", "us", "we") you understand that such information is not intended nor otherwise implied to be medical advice or a substitute for medical advice, diagnosis, or treatment.      Read more...