I want to chat with you today about how you don't always have to make huge changes in your way of thinking to become happier and have more positive mindset. Often, becoming happier just takes a conscious effort to small shifts in perspective. But you have to be on the lookout for ways to do that. Some examples.
Has this ever happened to you?  You're sitting in a jet waiting for take-off on a drab and rainy day. The jet takes off, and as it rises higher and higher above the clouds, the former gloomy grey vista suddenly becomes bright and cheery as the sun appears, glistening with golden rays.  You marvel as your spirits magically seem to lift. The sudden shift in perspective from a new angle above the clouds was all you needed to shake the blue mood.  Here's another one. I call it, The Story of DR. ANG'S PANTIES.
Several years ago, I was shopping for an evening gown at a very glamourous North Jersey Mall…..CLICK ON TITLE TO CONTINUE READING
Free Report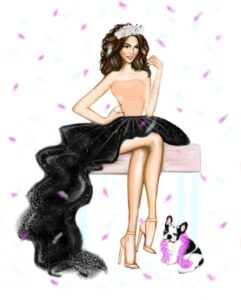 SUBSCRIBE and get
7 Insanely Simple Happiness Strategies Every Princess Must Have!

PLUS princess-worthy updates for a royally happy life!
An Ebullient Guide
Brainisfried's bubbling with practical and fresh ideas on the topic of how to get "royally happy and radically fulfilled." Step-by-step she guides you on a journey inside your heart and mind to help you find what makes your heart sing.
Disclaimer: Princess Diane Von Brainsfried® is a division of HarMaxiProductions, LLC. By using or viewing this website and these services of HarMaxiProductions, LLC  (hereinafter generally referred to as "Princess Diane Von Brainisfried", "my", "our", "us", "we") you understand that such information is not intended nor otherwise implied to be medical advice or a substitute for medical advice, diagnosis, or treatment.      Read more...