Welcome to my blog where I share princess secrets to help you maximize your happiness mojo, power up your positive energy, and become a beacon of light in the world! Today I'm excited to share the next adventure in my series for a wonderful life: #ENCHANTING DISCOVERIES…PEOPLE, PLACES, THINGS!  In this post I interview talented jewelry designer and entrepreneur, Jen Ecklund-Bistline, founder of ViaLove Designs. I first discovered (and fell gaga over) ViaLove Designs when one of my dearest girlfriends gave me a piece from the ViaLove collection for my birthday. (Photo of me wearing it inside…woohoo!)  I wanted to see more where that came from! ViaLove creations have a romantic air about them that's evocative of past eras which resonates with me because the jewelry feels regal, as if a long ago princess commissioned them! You won't want to miss Jen's interesting story, the inspiration behind the Old World feel of her collections and a peek into her creative process and FUN FACTOIDS thrown in as always just for…well…the FUN of it! CLICK ON THE TITLE TO CONTINUE.
Free Report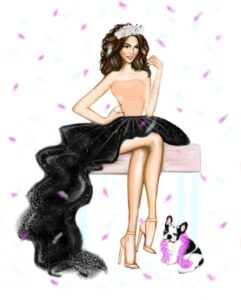 SUBSCRIBE and get
7 Insanely Simple Happiness Strategies Every Princess Must Have!

PLUS princess-worthy updates for a royally happy life!
An Ebullient Guide
Brainisfried's bubbling with practical and fresh ideas on the topic of how to get "royally happy and radically fulfilled." Step-by-step she guides you on a journey inside your heart and mind to help you find what makes your heart sing.
Disclaimer: Princess Diane Von Brainsfried® is a division of HarMaxiProductions, LLC. By using or viewing this website and these services of HarMaxiProductions, LLC  (hereinafter generally referred to as "Princess Diane Von Brainisfried", "my", "our", "us", "we") you understand that such information is not intended nor otherwise implied to be medical advice or a substitute for medical advice, diagnosis, or treatment.      Read more...