The Story Behind the Royal Blue Doodle

The Official Palace Portrait of Princess Diane VonBrainisfried
THIS BEAUTIFUL SKETCH of Princess Diane Von Brainisfried was created absentmindedly and without intention by my multi-talented friend and artist the late Bill Grace. Bill's work has been commissioned by many religious institutions, the US Embassy in Barbados, and the Barbados Government as gifts to Heads of State including FORMER PRESIDENT BILL CLINTON.
The story behind this magnificent drawing is rather mysterious and spiritual, as it was drawn while I was a guest in the lush, ancient, biblical city of Ashkelon. I was visiting a friend at her elegant seaside villa, when a rather famous past life specialist "out of the blue" informed me that in a past life I had been a princess in the French Court during the French revolution. The very first thing I wanted to know (besides did I get to keep my head) was, is THAT why I love croissants, because everyone knows, or some people know, that there is a culinary connection between France and Austria, the land my grandmother hailed from. She was not sure, but she thought so, about my head, that is.
Now Bill happened to be related to this famous specialist, but he knew nothing about her proclamation regarding my royal French roots. But, as luck and destiny often collide, EVERY princess needs a magnificent doodle to capture her essence. And so it was to be, because quite mysteriously, the beautiful Royal Blue Doodle was presented to me right after this incident, when Bill realized that this impromptu, absentminded and without-intention sketch he had drawn was actually a picture of me. And that is the true story behind the creation of "The Royal Blue Doodle".
x♥x♥x♥,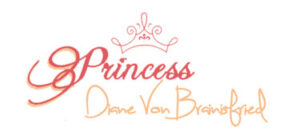 Live your royally happy life!™
X❤X❤X❤,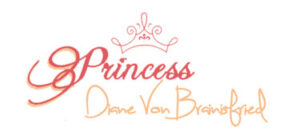 Live your royally happy life!™
An Ebullient Guide
Brainisfried's bubbling with practical and fresh ideas on the topic of how to get royally happy and radically fulfilled. Step-by-step she guides you on a journey inside your heart and mind to help you find what makes your heart sing.
What an Inspiration!
Deep insights delivered with punch & humor. Makes you think and laugh. Her ideas on how to find your unique sense of passionate purpose were themselves unique. She totally inspired me to find mine!
Disclaimer: Princess Diane Von Brainsfried® is a division of HarMaxiProductions, LLC. By using or viewing this website and these services of HarMaxiProductions, LLC  (hereinafter generally referred to as "Princess Diane Von Brainisfried", "my", "our", "us", "we") you understand that such information is not intended nor otherwise implied to be medical advice or a substitute for medical advice, diagnosis, or treatment.      Read more...