Laughter Yoga
Get ready to destress, promote better health, and have more fun than a barrel of monkeys!
Laughter Yoga was developed by Dr. Madan Kataria in 1995 and is now practiced in more than 100 countries around the world.  Great for promoting positivity, wellbeing, and team building.
Class Description (45 Minutes):
Laughter Yoga combines laughter exercises with deep yogic breathing that brings oxygen to the body and brain. We've known for ages that "laughter is the best medicine." Now science shows your body doesn't know the difference between laughing exercises and laughing for "a reason."  Laughter Yoga improves mental, emotional, physical, and social health…and that's no laughing matter!
You don't need a yoga mat, you don't have to be flexible, you don't have to be funny…you don't even need a sense of humor!
Positivity perk: My Laughter Yoga classes add a sprinkling of happiness and positivity principles that I teach as a Certified Positive Psychology Life Coach and Motivational Speaker.
For more information:
Drop me a line
Free Gift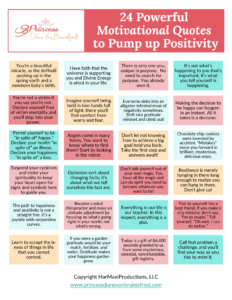 SUBSCRIBE and get 
24 Powerful Motivational Quotes to Pump up Positivity!
PLUS princess-worthy blog updates for a royally happy life!
Disclaimer: Princess Diane Von Brainsfried® is a division of HarMaxiProductions, LLC. By using or viewing this website and these services of HarMaxiProductions, LLC  (hereinafter generally referred to as "Princess Diane Von Brainisfried", "my", "our", "us", "we") you understand that such information is not intended nor otherwise implied to be medical advice or a substitute for medical advice, diagnosis, or treatment.      Read more...