​Bonjour Royal Friends!
I'm Princess Diane Von Brainisfried and it's a joy to welcome you into my kingdom where positivity rules and kindness reigns. 
I'm excited to announce a new series that I will periodically post on my blog called #Enchanting Discoveries – People, Places, Things.  These posts will feature fascinating people, interesting places, and wonderful things that I discover along my journey on the path of life…and off the beaten path! 
I couldn't be happier to kick off this series with the truly delightful artist Lisa Finch.  As a matter of fact, I was inspired to use the word "enchanting" for my new series because when I first saw her artwork I felt like I had stepped into an enchanted world!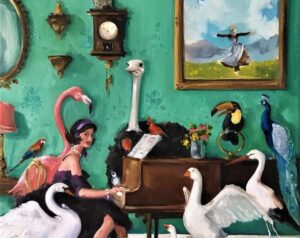 I landed on Lisa's Etsy site when I was searching for whimsical artwork to pay homage to all of the beloved dogs in my life that gave our family so much joy. There was Jolie the mini poodle, Colette the standard French poodle, Beasley the Golden Doodle (part poodle part golden retriever), Lalo the French bulldog, and Tucker the Golden Doodle. When I saw Lisa Finch's artwork, it was love at first "site." Plus, there were poodles and Frenchies galore to give some of her pieces the artistic French flair I so adore.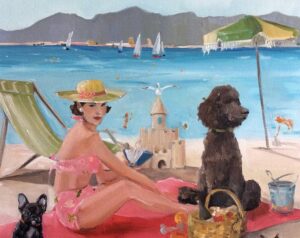 I'm happy to share the following interview in which I got to know Lisa a little better and to give you a peek into her magical world. You'll find out lots of fascinating scoop including cool facts about her artistic roots, how she gets ideas, where her whimsical vision comes from, and advice for artist wanna be's. Plus you'll read her answer to a "fun stuff" crazy bonus question!  
Here we go!
PDvB: Could you give us a little background about you?  How did you get interested in art?
LF: I was born into an artistic family and my early years were greatly influenced by my grandfather who was a Canadian landscape painter and a close affiliate of the Canadian Group of Seven. He was a wonderful teacher and fostered a great love of drawing and painting. I continued to study art through school and eventually to study Fine Arts and Literature at University.
I put my creative skills to use when I had my own children and designed costumes and sets for school plays, decorated about a gazillion gingerbread men, and painted murals. I began my painting career creating custom murals in homes and retail spaces which eventually led me to opening a shop where I transformed vintage furnishings with fabric and paint. After about 15 years painting furniture, I decided to return to my roots and set up a small home studio and turned my focus to painting canvases.
PDvB: What inspires you?
LF: My work is greatly inspired by fond memories of summers spent at our family cottage. We were left to rely on our imagination to amuse ourselves and that is invaluable, especially when you are creative. It just feeds that innate passion. I am obsessed with animals, old movies (especially Rear Window and To Catch a Thief). I have always loved sparkly things, and of course barbies and books.
PDvB: Could you give us a little info on where the ideas for your art come from? Maybe even specific to some of the paintings if you like
LF: I think of my work as being "story-telling art". I am not a writer, but I love a good story or rather I love the notion of prompting a good story. When I look a photos, stories seem to evolve and that leads me to an idea for a painting. That's where I start. I have a sketchbook where I collect these ideas. From there the story grows or it may take on a different direction and if it makes me smile or laugh, then it's one I pursue.
For instance, a recent painting titled "The Great Flight", I had come across an old photo of a woman standing by a decrepit staircase and could almost hear "fluttering" down that huge open staircase. That led to the variety of birds and the idea of them all coming down the staircase all at once. I liked having the woman just standing calmly, cocktail in hand while this "flock" descends. You can imagine the sounds and the feathers and the movement. The whole picture or story amused me.
PDvB: Can you riff a little about the whimsical nature of your art? Where does that come from? Is that something you are trying to get across as a world?
LF: Where does the whimsy come from? Well, the notion of taking life too seriously really strikes a chord. I've done a lot of reading about the endorphins that smiling and laughing produce and when I look at a piece of art or listen to music, I gravitate to those that make me feel good. I want to convey that in my own art. I take all of the things that I love, that make me feel good or make me chuckle and I try to incorporate them in such a way that they are not too bizarre but that you could see yourself wishing would happen. Wouldn't it be fun to go on a picnic with a monkey, a giraffe and a lion?
PDvB: You seem to have a pretty good entrepreneurial spirit; can you tell us about that? Your biz journey? Any advice to others thinking about doing what you're doing?
LF: Honestly, I don't have any business training, but I love the idea of working at something that I can make myself and that sparks me. That might stem from my lemonade stand days. In fact, that could probably be my business model. Over the years I have participated in many craft shows and home décor trade shows. I sold handmade floral pillows, painted furniture and chandeliers. The preparation and the hours working these booths was exhausting but at the same time exhilarating. I had great fun and a lot of success and loved the environment.
When I changed products and began focusing on oil painting, it was the same model. I took something that I could make and jumped in and opened a shop with Etsy and one success led to another. I still do the occasional art/craft show and I love it! It's nice to hear the feedback and nice to meet people who want to share their experiences and their love of art.
As for advice, I know we keep hearing the importance of finding something that you love, but that really is key because when you love what you're doing, you have that will to work hard at it and to pursue it.
PDvB: I love your use of brilliant bold color. Anything to talk about there? 
LF: I could talk colour for hours. I love colour. I love punches of colour. It evokes such deep emotions and moods. If I use a colour that I am not completely happy with, it really disrupts my painting. Sometimes to the point that I have to set the canvas aside and not look at it until I can figure out the right colour. This may trigger a tumbling effect and I may have to rethink all of the colours. There are so many great combinations, and sometimes we get so boxed into certain colour palettes but then you throw in something that you never thought of trying and it is fun and it works.
PDvB: Is there some sort of theme connecting your work?
LF: I like to think there is. I suppose when I hear that my work makes people smile, or it brings back a memory for them, that triggers something for me. When I was young, I belonged to a small club of five girls called "The Kindness Club". We sent away for the club package and had a motto and activities that we had to perform all based around being kind to animals. I've never lost that desire and I try incorporating that into my painting while keeping it light and fun.
PDvB: Are you ever short on inspiration? If so, what do you do to get back in the groove?
LF: Gosh, no. I have pages and pages of photos from magazines and sketch books and pieces of paper containing threads of ideas. Some will get tossed after time if they don't spark me anymore and some will result in paintings. I could easily pack my bags and vacation on Pinterest. I spend a lot of time gathering pictures that I use like pieces of a puzzle, putting together the story that I am about to paint.
PDvB: Do you have any hobbies?
LF: Yes, I do! I used to love to sew and actually have some projects I am just reviving, like a coat I started about 25 years ago, which may now become a dog bed.  I love to knit and have made many sweaters for my own kids and I have a little grandson who I am now knitting for. I am passionate about my dogs and have become interested in dog nutrition and I make my own dog food. I love to bake. I walk at least an hour every day – that's think time. And I love to read.
PDvB: Any obstacles you had to overcome to get where you are today? 
LF: No, I don't think that I have had anything in the way of getting to where I am now. I put off oil painting for many years because I knew that once I started, I would find it difficult to stop. Maybe having the proper time to devote to it was something I had to wait for but I don't see any big obstacles that I had to overcome.
PDvB: Any advice for people regarding expressing themselves artistically?
LF: Be open to exploring until you find where you're comfortable and when you find that spot, don't give it up. Keep at it and never stop learning. I have tried a lot of different styles when I first began painting. My family background is mostly landscape painting, but that wasn't for me and I kept coming back to animals and to vintage furniture and old movies and stories and that is really where my heart is. So, when you find what you love to paint, work at that and continue to learn as much as you can.
PDvB: Any fun factoids about you you'd like us to know?
LF: I am an introvert and camera shy. I have been married for 36 years and I met my husband while working at a movie theatre – I was the candy bar girl and he was an usher. Despite loving to paint vintage dresses and jewelry, I have poor fashion sense and would much prefer a pair of comfortable jeans and a t-shirt. All of my clothes have paint on them and my favourite food is french fries with gravy.
PDvB: Fun stuff question: If you were an animal, which one would you be and why.
LF: I have such a passion for horses…I think I might like to be a wild Chicoutimi pony like in the Marguerite Henry books….running the shores by the sea and living an adventurous life. And I love birds and to think about flying and soaring and then cozying up in a little nest. Yes, maybe a bird.
PDvB: How can my readers find you? 
LF: I can be found through my website French Canvas Studio, or through my Etsy Shop.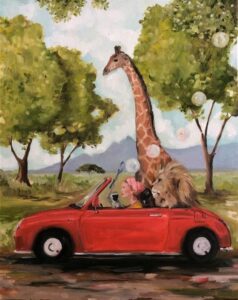 And there you have it! The perfect kick off to my new series, #Enchanting Discoveries – People, Places, Things.
Royal friends, please  help me grow my blog!  SUBSCRIBE if you haven't already so you don't miss a post and so I can send more positivity out to you and the universe!  SUBSCRIBE HERE.
P.S.You can grab my book BONJOUR, BREAST CANCER⏤I'M STILL SMILING! here: https://amzn.to/2MFKCc7. Bring someone (or yourself) the gift of hope and optimsim who is touched by breast cancer. Winner Independent Author's Network Book of the Year Award for Outstanding Non-Fiction.
Bonjour! I'm Princess Diane Von Brainisfried™
Motivational Speaker.  Certified Life Coach.  Award-Winning Writer.  Breast Cancer Survivor.  Offering seminars and coaching using humor to inspire happiness.
If you like what you read, be a gem and share it!
Disclaimer: Princess Diane Von Brainsfried® is a division of HarMaxiProductions, LLC. By using or viewing this website and these services of HarMaxiProductions, LLC  (hereinafter generally referred to as "Princess Diane Von Brainisfried", "my", "our", "us", "we") you understand that such information is not intended nor otherwise implied to be medical advice or a substitute for medical advice, diagnosis, or treatment.      Read more...