Bonjour Royal Friends!                                                                                                 
Did you ever feel like you needed a jolt of optimism in your life, but you were pretty certain if you looked up the word "pessimism" in the dictionary your picture would be there?  Did you think, well that's a no-brainer. My mudda was a pessimist, my mudda's mudda was a pessimist, and my mudda's mudda's mudda was a pessimist. Even if that were true, take heart. Studies show that optimism can be learned. Yes indeedy, there are distinguishing thought habits between optimists and pessimists. One big jewel in the treasure chest of an optimist's thought habit strategies is changing negative inner self talk and self-chatter that goes on in their head into positive self-talk. Martin Seligman writes about this in his book, Learned Optimism: How to Change Your Mind and Your Life (New York: Vintage Books, 2006), ix, 5,14-15, 175. Seligman teaches that the habit of exercising positive inner thought chatter is one of the defining tricks of optimists. 
Even if you pessimist-identify because you think it's in your DNA, you are not stuck in a DNA rabbit hole. It may not be possible to completely escape your genes (especially the high-waisted ones that seem to stick around forever), but these strategies and thought habits used by optimists are available to everyone. These thought habits and strategies can be found in books, in tongue-told wisdom of the ages, and in the epiphanies of princesses like me who have been through breast cancer and beat the blues with a bunch of good tricks and a bag of grit. Or is it a bag of good tricks and a bunch of grit. Either way, these strategies helped keep pessimism from taking over my mind like moss on a shady lawn. Remember, since positive thought habits are just that, habits,  they can be learned, they can be adopted, and they can be exercised.  Remember it this way: Cook up the good inner thought "chow-dah"…and tell the bad inner thought "chow-dah" to clam up!
Funny enough, it dawned on me that there's a children's book that is the perfect example of the type of inner self talk that optimists use. I'm talking about The Little Engine that Could.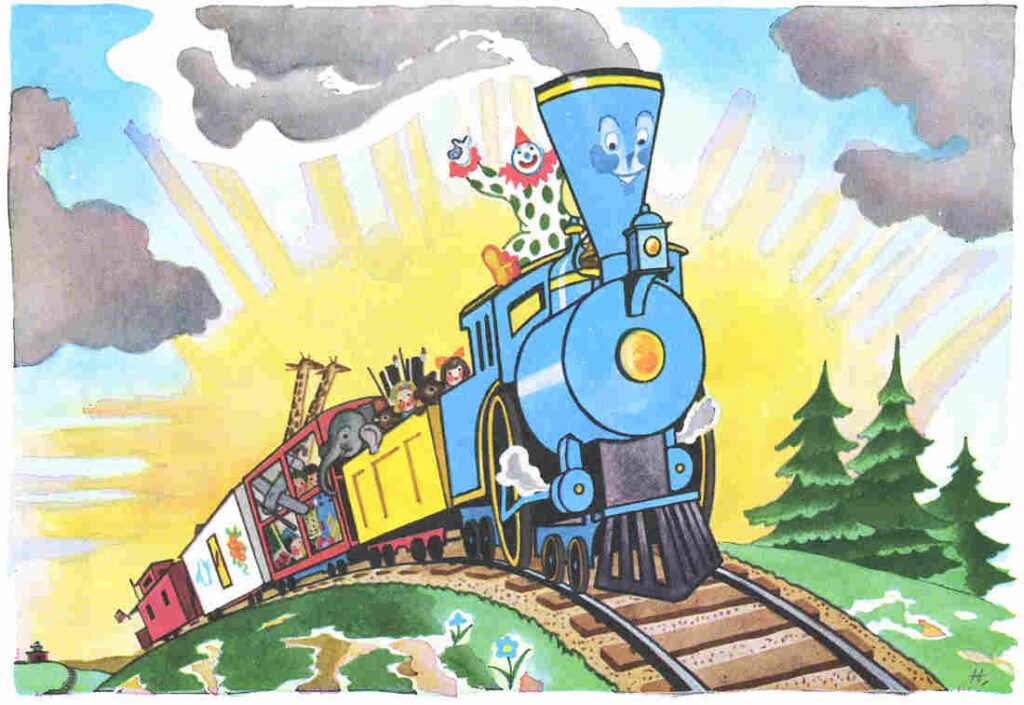 That Little Engine had to have a positive inner narrative to help the long train that stalled get up the big hill. Had the Little Engine been a pessimist, he might have interpreted the situation as his fault. He might have been thinking, I should never have volunteered for this gig. Who do I think I am? The big hills are for The Big Boys. I'm going to run out of power, and we are all going to slide back down the hill, crash, and die. And it will all be my fault for being born so stupid. I'll be the laughingstock of the bedtime story world! I'll make this one try, but if I can't do it, I'm so outta here.
Thankfully, the Little Engine was an optimist. His inner narrative might have been, Hey, every engine faces a few hills now and then. So what if I don't make it this time? At least I gave it the college try. Nothing bad is going to happen if I can't do this the first time. I'll just roll slowly back and try again . . . and again . . . and again. That's why the book is called The Little Engine that Could, not The Little Engine that Couldn't.
Thus, the critical inner activity that separates a pessimist from an optimist is the garbage self-tawk when life bites the hairy moose. Since we all face bad stuff, why not learn the skills that make life roll a little easier? View negative thinking like evil dust bunnies, then make like a vacuum cleaner and suck the living daylights out of them.
I used tons of strategies of optimism and positivity in my battle with breast cancer and I wrote about it in a book.   I'm excited to announce🛎 that BONJOUR, BREAST CANCER⏤I'M STILL SMILING! IS AVAILABLE FOR PRE-ORDER ON AMAZON! 🎉🎉🍾Here's the AMAZON LINK: https://amzn.to/2MFKCc7.   There's an EBOOK PREORDER SPECIAL 99¢ PRICE waiting for you, but don't snooze and lose, because the special price ends midnight, September 19th. 
AMAZON LINK: https://amzn.to/2MFKCc7
 Royally Yours & TTFN!
Bonjour! I'm Princess Diane Von Brainisfried™
Motivational Speaker.  Certified Life Coach.  Award-Winning Writer.  Breast Cancer Survivor.  Offering seminars and coaching using humor to inspire happiness.
If you like what you read, be a gem and share it!
Disclaimer: Princess Diane Von Brainsfried® is a division of HarMaxiProductions, LLC. By using or viewing this website and these services of HarMaxiProductions, LLC  (hereinafter generally referred to as "Princess Diane Von Brainisfried", "my", "our", "us", "we") you understand that such information is not intended nor otherwise implied to be medical advice or a substitute for medical advice, diagnosis, or treatment.      Read more...